Lasertel has been on the forefront of directed energy laser technology for quite some time. The team's involvement extends past manufacturing the technology, as Lasertel has also dedicated time promoting and discussing the advancements in the space with U.S. Congress. As a part of this, John Goings, Lasertel's lead for directed energy lasers, visited Capitol Hill last month. During his visit, Goings met with 10 Committee Staff Members, including members of the DE Caucus, Senate Armed Services Committee, House Armed Services Committee, and the Military Legislative Advisers (MLA) in the following offices:
| | | |
| --- | --- | --- |
| Sen. Wicker (R-MS) | Rep Langevin (D-RI) | Sen. Inhofe (R-OK) |
| Sen. Heinrich (D-NM) | Rep. McSally (R-AZ-02) | Rep. Lamborn (R-CO) |
| Sen. Udall (D-NM) | Rep. O'Halleran (D-AZ-01) | Rep. Brooks (R-AL-05) |
The purpose of the visit was to express progress in the industrial supply chain that will help to enable the deployment of directed energy lasers. Considering the vital role Lasertel plays in directed energy systems, as the direct diode pump source of choice, Lasertel spoke about the deployment of these lasers in the battlefield.
Goings said, "Semiconductor laser diodes are the common element for fiber, solid-state or hybrid lasers and the largest contributor to the size, weight and power of directed energy lasers. Therefore, it's important for us to work with Congress to ensure these critical components meet key performance metrics, as well as support manufacturing in the expected large production ramp up."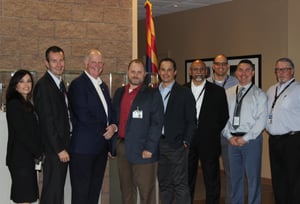 In continued support, Goings's visit to congress was followed by a congressional visit to Lasertel at the end of last month. Congressmen Tom O'Halleran of the 1st Congressional District of Arizona is pictured here, visiting the headquarters in Tucson on Tuesday, October 23.
If you have questions regarding diodes for laser systems, contact us today!
---
Interested in learning more? Lasertel has developed a library of customer resources, including multiple educational white papers on directed energy technology.