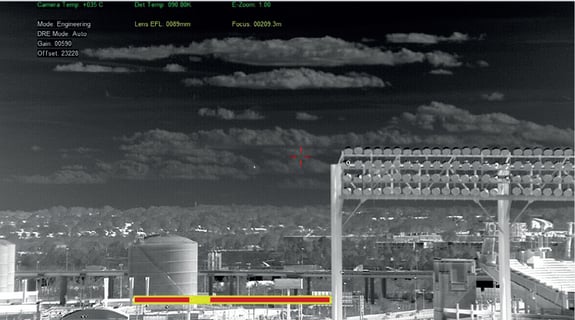 Infrared Systems
Infrared Cameras, Camera Cores, and Detectors
Military personnel needs visibility into their environment to identify, categorize, and respond to threats. High-resolution, low-SWaP infrared countermeasure (IRCM) sensing systems can support this critical intelligence, surveillance, and reconnaissance (ISR) and targeting efforts to contribute to mission success.
Leonardo Electronics US Inc. has extensive experience developing infrared systems equipped for tactical use in airborne, land, and naval surveillance and targeting missions. Our wide range of detectors, integrated detector cooler assemblies (IDCA), camera cores, thermal imaging cameras, infrared search and track (IRST) systems capture the sharpest imagery for unparalleled situational awareness in support of multi-domain targeting and ISR operations.
High-definition images allow for improved surveillance and reconnaissance missions. Safety and security are the primary objectives of our IR cameras while being lightweight and durable. Designed for immediate integration and installation into your system, our SWaP-C compatible products are proven to meet your situational requirements. Gain increased visibility in any environment. Directional infrared countermeasure (DIRCM) systems provide unparalleled self-protection for aircraft operating under the threat of attack by infrared homing missiles.
Infrared Systems
The Firefly Camera Core is a native Android™ device that uses a High Operating Temperature (HOT) MCT array with a resolution of 640 x 512 pixels on a 16 μm pitch. Firefly supports two additional camera channels that can be added to create a multi-waveband imager to allow image fusion and net SWaP-C savings. Includes an integrated 3-axis accelerometer and gyroscope, GPS, WiFi, Bluetooth, and USB 3.0
The Miysis Directed Infrared Countermeasure (DIRCM) provides advanced electronic protection from IR-guided missiles. This high-power, all-aspect protection system is the most effective countermeasure against MANPADS.
Thermal Imaging Cameras
NERIO-ULR is an Electro-Optical Surveillance, Threat Acquisition, and Reconnaissance system ideally suited to satisfy a broad range of customer requirements including:
Border and Coastal Surveillance
Critical National Security Infrastructure
Battlefield Reconnaissance, Surveillance, and Target Acquisition
Air Defense and Counter Unmanned Aircraft Systems (CUAS)
The Horizon MWIR thermal imaging camera is fitted with a high-definition detector array and a modular IDCA with 50,000-hour cooler life; designed to meet long-range surveillance and target identification requirements. Horizon is the ideal choice for border and littoral security surveillance tasks.
Infrared Detectors
Mercury Cadium Telluride (MCT) avalanche photodiode (APD) array incorporating a full custom ROIC for applications in the 0.8 to 2.5 μm range.
With capabilities in Infrared Search and Track (IRST), SkyWard is designed to meet the demanding requirements for fifth-generation fighter aircraft with both embedded and podded configurations for new and existing platforms.
The SuperHawk MWIR IDCA provides a 1280 x 1024 array of pixels on an 8 μm pitch, providing an easy, high-definition upgrade in a smaller optical footprint than larger pixel pitch detectors provide.
Subscribe to Our Blog
Get the latest news and announcements from Leonardo Electronics US right to your inbox.