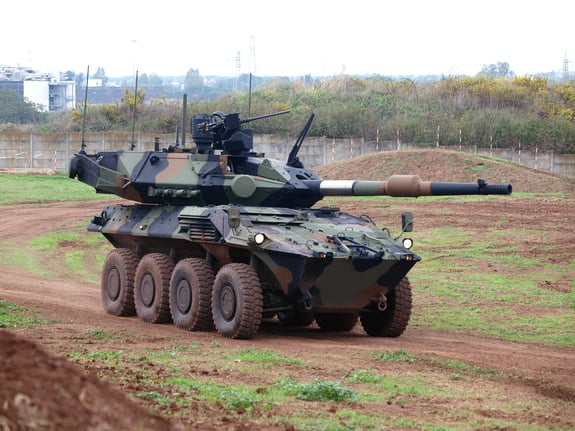 Defense Systems
Ordnance, Ammunition and Position, Navigation & Timing on Land and at Sea
Armed forces require a diversified approach to combating increasingly complex threats worldwide. To support these operations, Leonardo Electronics US Inc. offers an extensive portfolio of weapons systems and ammunition for airborne, land, and naval platforms.
Our defense solutions for land include the versatile VULCANO family of ammunition, HITFACT 120 mm/105 mm vehicular turrets, and the Laser Inertial Navigation Artillery Pointing System (LINAPS) — a self-contained, gun-mounted navigation and artillery survey. For airborne systems, we offer the Falcon Shield. Our naval defense systems include a wide range of torpedoes and torpedo countermeasures, unmanned underwater systems, and sonar solutions.
Ordnance and Ammunition
HITFACT MkII 105-120 mm is a combat-proven Low Recoil Force Larger Caliber Turret for light wheeled vehicles and medium tanks, with more than 500 units in service with International Armed Forces
VULCANO is a family of guided and unguided ammunition, available for 76 mm and 127 mm ammunition naval guns and 155 mm ammunition land artillery systems.
Field Artillery Position, Navigation & Timing
LINAPS Artillery Pointing System is a self-contained, gun-mounted navigation, artillery survey, and weapon-management system for all Artillery and Mortar platforms. It is currently in service in the UK, Canada, UAE, Oman, South Africa, Malaysia, and Thailand.
Counter - small UAS (C-sUAS) Systems
To address the threat of low, slow, and small unmanned air systems, undetectable by conventional air surveillance equipment, we have developed innovative, flexible, scalable, and configurable systems based on our range of high-performance electro-optical sensors and advanced radiofrequency effector technology.
Subscribe to Our Blog
Get the latest news and announcements from Leonardo Electronics US right to your inbox.