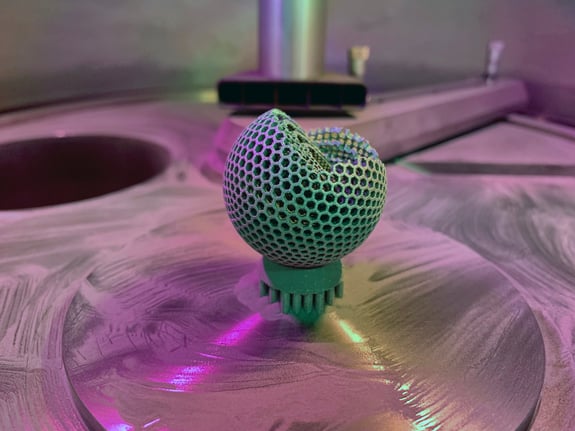 Materials Processing
Leonardo Electronics US is a supplier of key components for materials processing in industrial applications. Our flexible and custom laser diodes can increase efficiency, throughput, and performance for a wide variety of industrial applications.
Leonardo's beam shaping control and flexible packaging can make a difference to meet your manufacturing demands.
Automated Fiber Placement

As manufacturers turn to laser systems for materials processing, each application represents unique demands. One such application is composite joining, for which Leonardo has used free-space direct diodes that offer customizable beam shaping.
Heating Sources & Food Packaging
In wide-ranging materials processing applications, manufacturers turn to laser systems to replace IR heaters, gas flames, and hot air blowers for their energy efficiency and precision. In food manufacturing, laser diodes are used for seam welding and shrink wrapping.
Additive Manufacturing
3D printing has garnered increasing attention over the past decade - initially only with plastics. Still, the promise of designing a part and printing it has spurred on many minds, and metal 3D printing is becoming part of the standard set of processes available to designers. However, the use is still relegated to the realm of special parts or prototype parts. New techniques and tools are getting ready to challenge this status quo and venture into metal additive manufacturing with high resolution and high speed. Direct diode lasers are playing a critical part in developing this advantage and keeping up with the increasing demand.
Thermal Annealing
In the semiconductor industry as well as other manufacturing segments, annealing processes are often crucial to change material properties or relieve any stresses that build up in parts. These processes can be performed with either conventional ovens or other more targeted heating mechanisms, but it is rarely possible to be as targeted and efficient as with a diode laser beam. Homogeneities in the high 90% regime are easily possible, and the definition of the laser beam limits the heating to very well-defined areas providing process and cost advantages.
Market Shift to Laser Systems
Leonardo's Laser Solutions facility uses proprietary manufacturing processes to build the most efficient and robust laser diode components on the market, suited for industrial processing applications that range from chip fabrication to laser heating and metal 3D printing.
The shift to laser systems is driving a US manufacturing renaissance. There has been a large-scale movement toward high value-add manufacturing through the use of precise lasers in additive manufacturing, automated fiber placement, food packaging, and laser annealing.
We are currently co-developing next-generation industrial laser tool technologies to revolutionize manufacturing sectors. Our technology is built on the already delivered and operational, record-setting Megawatt Laser at the European Union's Extreme Light Infrastructure (ELI) Beamlines in the Czech Republic.
Featured Product Families
Application Brochure
Subscribe to Our Blog
Get the latest news and announcements from Leonardo Electronics US right to your inbox.