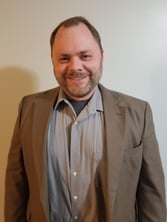 John Goings has worked with Lasertel for the last seven years in a number of different industries, most recently focusing on defense. John's knowledge of both the defense industry and of direct diode sources helps him find best-fit solutions for customers' applications.
We asked him how he sees the defense industry advancing and what customers should consider before purchasing laser diodes.
What is your professional background? Have you always worked in the defense market?
I've worked in lasers for over 15 years, in a few different industries. Before coming to Lasertel, I was working in the industrial laser space, and when I first came to Lasertel I split my time between medical, defense, and industrial. After being here for a little while, I've begun to focus on defense, as the demand for directed energy lasers takes shape.
What brought you to Lasertel?
About seven years ago, I was looking to make a move to a new company. I was attracted to Lasertel because they had a reputation as an innovator. At that time, they were the only ones making laser diodes with a hard solder process, which allowed them to build laser diodes that could operate anywhere from -40 to 80 degrees C. This capability really positioned them as an innovator rather than just a bar supplier. Lasertel has since moved into packaging, providing much more systems and design-level support to its customers, and remains an innovator in its collaborative development with customers.
What key areas do you explore with customers in the defense market?
We currently provide three primary types of laser systems for defense: pump diodes for targeting and range finding, high power laser illuminators for observation, and pump sources for directed energy. We work worldwide in each of these areas, helping to meet customer requirements that push the limits of what has been possible to date.
What challenges or questions do you address for customers?
Many customers who come to us are unaware of how versatile laser diodes actually are and the design approaches that are possible. With the ability to reduce size and weight and increase brightness, laser diodes are becoming a solution to a range of applications that people wouldn't necessarily think of. When working with a new customer, we like to start with their program and performance objectives.
Another topic we cover when starting a new project is customization. Customers often think of a catalog when ordering laser diodes, but we are incredibly flexible in building the components. With Lasertel's ability to offer beam shaping and conditioning, if they can think it, we can build it. When exploring options, we start with how much power they need and the size of the target. Changing the conversation from the product itself to what it needs to do can help us to develop a customized, functional design.
What projects are you currently working on?
There are two pretty big projects we are working on right now. The first is a multi-kilowatt airborne laser illuminator. It will be one of the first products in this space of its power and will be deployable on a drone. We are also working on a covert, out-of-band man-portable laser pointer that emits at 1.5 micron wavelength. This technology allows an individual to point without the target seeing the pointer or the location of the individual using conventional night vision equipment. Both of these technologies are actually in production now, and we have the capacity to make hundreds a year. Because of our approach to the system design, including the direct diode source laser, the laser for beam shaping, homogenizing optics, and an integrated control and power supply, we are capable of building systems that are light and small enough for drone platforms.
You have an extensive background in industrial equipment. What trends do you see in the industrial market?
We've seen a lot of demand for diode-based laser substrate heating. These laser heaters replace heat coils or hot gas and have several advantages, including greater control and precision, faster processing, and increased electrical efficiency. As automation is a priority for manufacturers in the coming few years, laser diodes are increasingly relied upon in capital equipment.
What's your favorite part of working at Lasertel?
For me, it comes down to the people we have working here. They are intelligent and are able to see the big picture. Sometimes with multi-discipline teams there is can be conflicting interests, but at Lasertel, everyone knows how important the other's role is in delivering a solution to a customer. When you have the engineers and the sales team working together so seamlessly, it enhances the end product.
Innovation is also a big part of it. A lot of our work is custom, so we are lucky to have engineers that are willing to be innovative and be challenged.
To learn more about Lasertel's work with directed energy and the defense market, download our white paper: High Energy Laser Systems for Directed Energy & Emerging Applications.