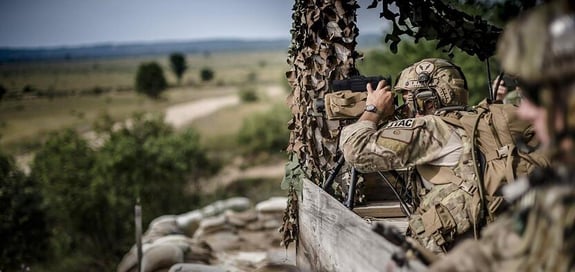 Advanced Targeting Systems
Advanced Laser Designators and Precision Guidance Seekers
Leonardo Electronics US Inc. is a world leader in high-performance solutions and advanced targeting capabilities for laser designation and precision guidance seekers.
Our laser designators and weapon seekers are designed to deliver precision targeting for electro-optical and laser-guided weapons systems. These capabilities are critical in increasing first attack hit probability, and avoiding fratricide or collateral damage risks in the field. Our laser seekers provide low beam divergence and high energy outputs for airborne and man-portable applications. Our designator and seeker systems meet low size and weight requirements while delivering a powerful solution that increases mission confidence.
Laser Designators
The Type 163 laser target designator is a lightweight, man-portable laser designed to provide laser designation for semi-active laser-guided weapons and laser range finding up to 10 kilometers.
The GEN III Semi-Active Laser (SAL) seeker provides high-accuracy laser spot acquisition and tracking capability in a compact sensor package for precision weapon terminal guidance. It is compatible with multiple guided weapon types including missiles, bombs, and rockets.
Precision Guidance Seekers
Leonardo is a world leading independent provider of electro-optic seekers to missile manufacturers. We developed the first European electro-optic missile seeker in the 1970s for the Martel missile and have a long and successful history of providing innovative seeker capabilities to missile customers worldwide.
Subscribe to Our Blog
Get the latest news and announcements from Leonardo Electronics US right to your inbox.