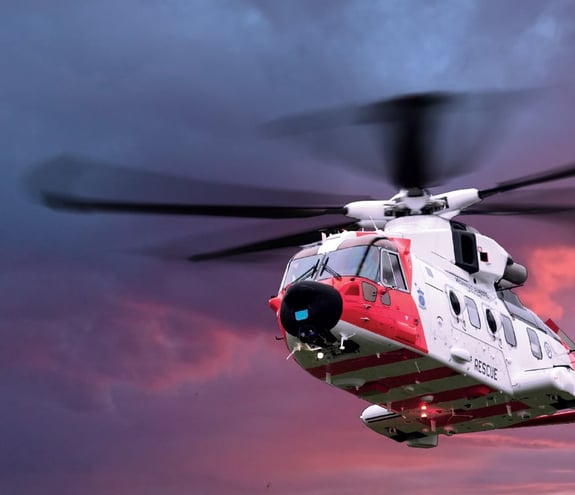 Avionic Systems
Communication and identification systems for airborne platforms
Latest-generation avionic technologies, capable of being integrated onboard fixed and rotary wing, manned and unmanned platforms to assist pilots in navigation and flight control, transmission of data and information, and in 'Friend or Foe' identification functions in even the most complex operational scenarios.
Avionics transponders are vital in ensuring clear communication and safety for those in the air and on the ground.
Identification & Data Links (IFF & DL)
The M428 compact transponder is part of the family of MkXIIA (MkXII + Mode 5) transponders. The M428 achieves military identification through Mode 4 and Mode 5, supported by a removable encryption unit.
The M427 Reverse Mode 5 responder is designed to prevent air-to-ground fratricide based on Reverse Mode 5, where interrogations are directed to targets at a specified set of geographic coordinates or within some specified range of distance.
Communications
The SRT-700 is developed to provide aircraft with plain/secure voice/data communications facilities over an extended frequency range through an external encryption unit.
The RT-200/400 family of advanced HF/SSB transceivers have been designed specifically for fixed-wing and rotary-wing avionic platforms and provide voice/data communications over the 2-30 MHz frequency range.
The Data Link Management System (DLMS) provides the core element of data communications on manned and unmanned aerial platforms. As a Tactical Data Link Processor, it provides voice/data communications over broadband IP-based and legacy Tactical Data Link systems.
The SRT-800 family of airborne software-defined radios provide air-to-air and air-to-ground secure and cyber-resilient connectivity to military and commercial aircraft.
The WDL-45/X LOS is an avionics wireless communication system for downlink streaming of broadband Intelligence, Surveillance, and Reconnaissance (ISR) information, and the two-way transmission of Ethernet TCP/IP data, sensor control, mission control, and ATC voice.
The SP-1450/N-E Intercommunications System (ICS) is designed for use on fixed and rotary wing platforms. It integrates all radio communications and navigation equipment, data links and internal/external communications facilities into a single, Tempest proven architecture.
Data Processing/Mission Management/Navigation
The AMMS is a powerful computing system designed to provide processing features to rotary wing aircraft, including Navigation & Flight Management, Cockpit Display Management, and Aircraft Plants Management.
The ANV-353 is a fully digital Doppler Velocity Sensor (DVP) that provides a continuous and accurate three axis velocity measurement for both fixed- and rotary-wing aircraft applications.
LOAM-V2 is a new generation Dual Use active Obstacle Warning System, specifically conceived for small and medium size helicopters being only 13 kg weight and 22 x 25 x 29 cm dimensions. The system provides on-time detection and warning for small obstacles such as wires (down to 5 mm diameter), poles, and structures.
The Avionics Network Computing (ANC) Platform is an integrated avionic equipment, based on Integrated Modular Avionics (IMA) concept, aimed at providing safe and secure communications services and data terminal management functions for manned and unmanned platforms.
The Cockpit Mission Display Processor (CMDP) is a high safety avionics computer platform with a powerful embedded graphics capability. It is configured using the base of the standard hardware and layered software modules, both developed by adopting the latest quality standards that make the CMDP certifiable according to DO178B and DO254 level B (optionally level A) and suitable as a main cockpit mission computer.
skyISTAR is a state of the art multi-mission integrated sensor system for unmanned aircraft. Its service-orientated architecture allows easy system reconfiguration and the introduction of different sensor suites to match a wide range of military, para-military, and civil requirements.
Subscribe to Our Blog
Get the latest news and announcements from Leonardo Electronics US right to your inbox.