BriteCloud 218, which is currently undergoing a trials program in the United States led by the US Air National Guard (ANG) to confirm its suitability for the F-16 combat aircraft, was just trialed successfully by the German Armed Forces as a protection capability for target drone aircraft, also known as remotely-piloted air target systems (RPATS). The trial proved the ability of Leonardo's flare-sized electronic device to outwit missiles equipped with Semi-Active Radar (SAR) seeker technology.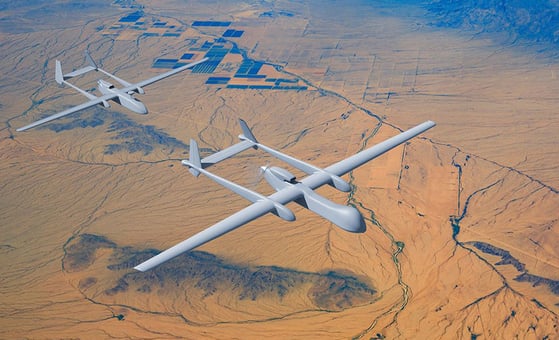 The recent trial, in which the German Armed Forces launched a Leonardo BriteCloud 218 decoy from an Airbus RPATS test platform, evaluating its potential in protecting flying weapon systems from radar-guided missiles, has been heralded as a success. Live BriteCloud 218 rounds were ejected from the RPATS during flight, allowing the aircraft to successfully evade missiles equipped with Semi-Active Radar (SAR) seeker technology.
BriteCloud is a flare-sized electronic device that protects aircraft from radar-guided missiles. Launched from a standard countermeasure dispenser, it transmits powerful radio emissions that simulate the missile's expected target, drawing the threat towards BriteCloud and away from the aircraft. BriteCloud is a world first, building on Leonardo's excellence in miniaturization.
The German trial marked the first time BriteCloud has been launched from a drone or RPATS platform. BriteCloud, which does not require integration, is a cost-effective way to equip such assets with latest-generation jamming capabilities. The decoy is dramatically more effective than traditional radar-reflecting foil countermeasures, with its on-board computer deploying the latest electronic warfare techniques to protect from modern threats.
The BriteCloud 218-variant rounds used during the trial pack this technology into a standard-sized rectangular countermeasure casing measuring 2x1x8 inches, compatible with a range of common dispensers such as the AN/ALE-47, making it possible to economically boost the defenses of older F-series jets such as the F-15 and F-16, as well as smaller RPAS platforms.
BriteCloud 218 is also currently undergoing the United States Foreign Comparative Testing (FCT) program, led by the US Air National Guard (ANG), which could lead to the decoy entering service with the United States Air Force (USAF) Air Combat Command and other US services. Leonardo's original BriteCloud 55 decoy is already in active service with the UK's Royal Air Force.