The recent conflict between Russia and Ukraine has underscored the pivotal role that small Unmanned Aircraft Systems (sUAS), commonly known as drones, play in modern warfare. Often weighing under 35 lbs. (16kg), these compact aerial units have remarkably bolstered the defensive capabilities of the Ukrainian military against one of the world's most formidable armies. This impactful utilization has sparked a wave of interest in drone technology not just in the U.S., but globally.
The emphasis isn't solely on the development and deployment of such tools; an equally pressing matter is the defense against them. How can nations shield their troops and facilities against these diminutive yet potent threats that often elude conventional defense systems?
Enter Leonardo's Falcon Shield solution. This isn't just a theoretical response to the drone challenge. It's a real-world solution that has been actively deployed by the UK's Royal Air Force for over a decade. Regularly updated to leverage new and emerging best-of-breed technologies, Leonardo's Falcon Shield remains at the forefront of defense innovation.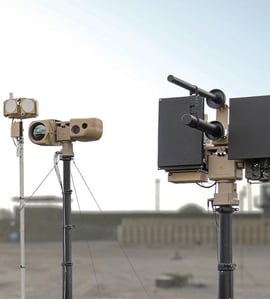 Conventional Surface-to-Air defense systems are calibrated for larger, manned aircraft, leaving them ill-equipped to detect sUAS. Leonardo's Falcon Shield revolutionizes this dynamic with cutting-edge technology designed to identify and neutralize drone threats. The system integrates high-frequency 3D radars, equipped with filters to discern genuine threats from innocuous entities like birds, alongside advanced Electro-Optical and Infrared Sensors (EO/IR) powered by AI-driven computer vision. Once a threat is pinpointed, the system offers both Electronic Warfare (EW) techniques and kinetic options for neutralization.
Understanding the diverse requirements of different operational terrains and scales, Leonardo's Falcon Shield isn't a one-dimensional solution. Its robust Command and Control (C2) software ensures scalability. Recognizing the uncertainties in supply chains, as evident from recent disruptions like the COVID-19 pandemic, the system is built with a modular approach, facilitating the integration of varied radar, cyber electronic support measures, and effector systems. Moreover, for forward-operating bases without specialized personnel, Leonardo's Falcon Shield incorporates an intuitive planning tool. This feature enables operators, even those without in-depth technical expertise, to deploy the system efficiently using geospatial data and a straightforward drag-and-drop interface.
Leonardo's Falcon Shield exemplifies the fusion of technology and adaptability, ensuring that defense mechanisms keep pace with evolving aerial threats.