At the Lasers and Photonics Marketplace Seminar, hosted by PennWell this past January in concurrence with Photonics West 2018, laser and systems manufacturers and economics experts made clear that the market outlook is promising.
Industry experts agree: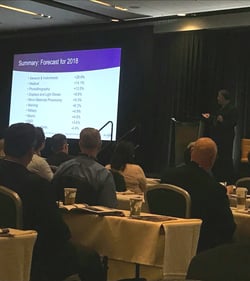 Growth rates are promising: a 10.8% CAGR is expected in lasers.
Stock market concern exists: for all that remember the 2010 telecom bubble, there is a sense of caution, but valuation analysis of companies suggests the growth is supported.
Aesthetic laser market growth will occur primarily in Europe, the Middle East, Africa (16%) and Asia (20%).
Vertical-cavity surface-emitting lasers (VCSELs) are in high demand, thanks to extensive use in smartphones for autofocus and facial recognition.
Industrial laser market revenue was up 48% in 2017 in metal cutting and laser annealing.
While the summit covered a broad range of laser systems, most speakers focused on laser diodes.
The laser market's broad range of applications is in alignment with Leonardo's R&D work and current high volume capacities. While Wall Street appears interested in 3-30 kW lasers, many emerging applications like directed energy and lidar demand advances in high power. Lidar usage in autonomous vehicles demonstrates this split in widely varied approaches, utilizing both edge emitter and VSCELs, low power and high power solutions. Leonardo's laser solutions team is collaborating with lidar systems manufacturers on both edge emitter and VSCEL designs, with the ability to scale to meet automotive production volumes. In fact, Leonardo noted that much of the interest at Photonics West was in automotive lidar. While smartphone use of VCSELs is well established, automotive lidar is in development mode and OEMs are seeking strategic partnerships at the laser diode level. Learn more about edge emitting diodes and VSCELs:
Another significant market driver is manufacturing's move toward ultrafast lasers in materials processing, including glass and metal cutting, laser cleaning, and annealing and joining, in an effort to drive productivity. Leonardo's work in industrial laser systems, such as carbon composite joining, also demonstrates the growing demand for high power laser diodes. Much of the talk at Photonics West focused on direct diode heating applications for carbon composites, semiconductor substrates, and food and industrial packaging.
Consolidation in the laser market appears to be another continuing trend, as panelists discussed their merger and acquisition strategy. This can mean limited choices for systems customers, as laser companies streamline product offerings and limit their R&D. Leonardo remains committed to collaborating with customers to meet their custom laser diode needs, from design to prototype to production. Our recent investment in expanding R&D facilities, staff and budget demonstrates this commitment.
Our thanks to PennWell for a comprehensive analysis of the laser diode market. Check back for our look further into aesthetic laser applications.