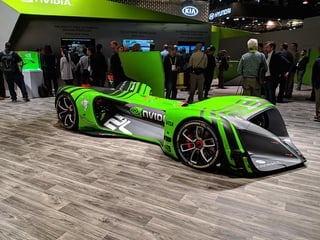 At CES 2018 in Las Vegas this January, Robert Walker met with lidar customers and previewed major automotive customers' exhibitions. This year, autonomous vehicles from manufacturers such as Hyundai, Ford, and Mercedes, were at the forefront of the tradeshow floor. Here are their impressions.
The technologies on exhibit at CES often take a bit of heat for being 'vaporware'—far from commercially available. Is lidar ready now?
Lidar sensors from companies, such as Velodyne, are a fast-emerging, foundational technology for advanced driver assistance systems or "ADAS." At our manufacturing headquarters in Arizona, we have been integrating custom illumination sources into several commercial prototypes to study performance.
At present, we see two barriers to widespread adoption:
Poor resolution— At CES, exhibited prototypes could not distinguish subjects' hands from their bodies.
Cost and reliability— The moving parts within most scanning lidar systems are expensive and may lack ruggedness needed for reliable operation in automotive environments.
A current application of lidar systems that has us excited is the real-time collection of driving conditions and traffic data as implemented by Uber and Waymo. This real-world use of lidar is an important stepping-stone toward widespread, commercial rollout as it "bootstraps" fully-automated solutions, which are still a year or two out.
What's next for lidar?
The market is emerging and evolving, and no single laser approach is in the lead. Solid state solutions are the most promising, as they offer reliability and lower production costs. Leonardo is working on several approaches to move the technology forward. We are pursuing a broad solution set, developing VCSEL and edge-emitter solutions for both very high-peak-power and high average power requirements. Included in this solution set are integrated drive electronics to support very narrow pulses.
We found that Leonardo's pulsed illumination modules far exceed the technologies displayed at CES. Leonardo recently demonstrated kilowatt-level power for pulse-widths narrower than 10 ns, whereas competitors promote pulse power of a few hundred Watts at >20 ns. Higher peak powers at shorter pulse durations offer longer range and higher resolution. Leonardo's unique ability to design and integrate the laser source with customized electrical drivers plays an enormous part in this superior performance. Leonardo continues to build on this success.
What's the market outlook for lidar?
There continues to be brand consolidation in this market, balanced by many start-ups coming out of "stealth mode" and collaborating with major automotive manufacturers on prototypes. We are seeing requests for prototypes with very aggressive timelines and a lot of investment backing. Start-ups are a key driver of this technology because laser technology is relatively unknown to major automotive manufacturers. That said, lidar start-ups often struggle with scalability, and tier 1 suppliers often lack the engineering resources to research laser science internally. That has put Leonardo in a great position to support lidar development programs. We have the necessary engineering expertise and flexible manufacturing capabilities to scale with demand.
Aside from the automotive applications on display at CES, we were also encouraged to see lidar interest in other areas, such as airborne and underwater vehicles. We have done a great deal of work on laser diode systems for extreme conditions, and these applications are a great fit.
Watch for us next at SPIE Defense + Commercial Sensing, or book a meeting.
Learn more about Automotive Lidar with our white paper on VCSEL and edge-emitter solutions.