SLX-SuperHawk
Thermal Imaging Camera
SLX-SuperHawk is a Medium Wave Infra-Red (MWIR) thermal imaging camera employing the latest focal plane array technology to meet long-range surveillance
and target identification requirements. It provides a wider Field of View (FoV) for greater situational awareness while delivering a narrower IFoV for longer-range target identification and engagement.
It is available in two variants, incorporating a high definition (HD) 1280x1024 resolution focal plane array detector in total darkness; the camera captures images by sensing temperature differences as small as 1/50th of a degree.
SLX-Superhawk S
SLX-SuperHawk S incorporates an integrated detector cooler assembly (IDCA), providing a compact, high-performance capability.
SLX-Superhawk L
SLX-SuperHawk incorporates a 40,000-hour-long life split linear cooler offering the same high performance but with extended maintenance-free operation and low cost of ownership.
SLX-SuperHawk qualifies for use in both military and civil applications, including border surveillance, missile guidance, policing, customs control, coastal security, and asset protection.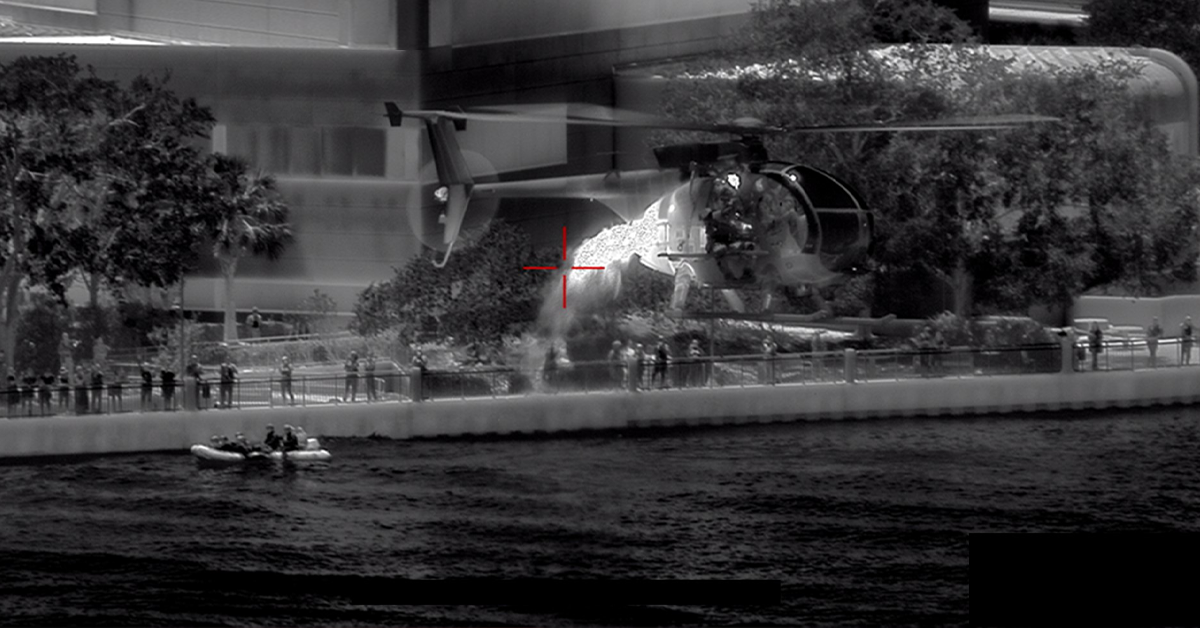 Key Benefits
Technical Specifications
Designed, developed and manufactured in the UK
'Dual Use' rated
Very low through-life cost due to 40,000 hours cooling engine life (SLX-SuperHawk L)
Multiple digital and analogue video outputs

Analogue Video Output
HD-SDI Video Output
Fiber-Optic Output
Latest image processing

Turbulence mitigation
Image stabilization
Local area contrast enhancement
Qualified to operate from -40°C to +55°C
Designed for fixed and mobile applications
Extended warranty options
Finance options available
Service provision contracts options
Detector array resolution: 1280 x 1024
Detector pitch: 8 µm
FoV: 21.5° x 17.3° to 1.47° to 1.17°
Detector technology: CMT
Band: 3.7 µm - 4.95 µm
F/Number: F/2.8
Focal length of continuous optical zoom: 27 mm to 400 mm
Comms: RS-422, Fiber Optic
Analogue video output:

NTSC
PAL (CCIR)
HDTV 720 p/1080 p

Digital video output: HD-SDI, fiber optic
Operating temperature: -40°C to +55°C
Weight:


SLX-SuperHawk S: 10 kg
SLX-SuperHawk L: 11.5 kg
Size (LxWxH)

SLX-SuperHawk S:470 mm x 171 mm x 171 mm
SLX-SuperHawk L: 470 mm x 171 mm x 171 mm (excluding connectors)

Power source: 28 VDC (18-32 V)
Nominal power at steady state: <25 W
Dynamic range enhancement:

Local area contrast enhancement (LACE)
Linear
Edge enhancement

Image stabilization: Yes
Turbulence mitigation: Yes
Auto focus: Yes
Cooling engine:

SLX-SuperHawk S: Rotary IDCA (15,000 hours)
SLX-SuperHawk L: Long life linear (40,000 hours)

Non-uniformity correction: Built-in reference and quadratic NUC
E-Zoom: Interpolated (up to 8x)