SAL GEN III
GEN III Semi-Active Laser Seeker
The GEN III Semi-Active Laser (SAL) seeker provides high accuracy laser spot acquisition and tracking capability in a very compact sensor package for precision weapon terminal guidance. It is compatible with multiple guided weapon types, including missiles, bombs, and rockets.
The complexity and dynamics of modern battlefield scenarios place challenging demands on guidance systems for precision attack weapons. The need for highly targeted, selective, and accurate terminal guidance across a broad range of scenarios cannot be achieved by GPS/INS systems alone.
The GEN III SAL seeker delivers unprecedented levels of seeker accuracy to maximize weapon cost-effectiveness under demanding guidance system requirements.
The GEN III SAL product provides a highly integrated complete sensor solution posing a minimal risk of compatibility issues for ease of integration.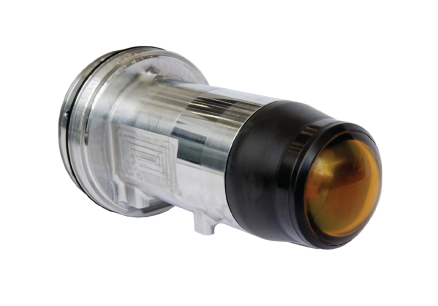 Key Features
Technical Specifications
Compatible with NATO STANAG 3733 or raw pulse interval entry
Linear angular reporting across field of view, enabling the benefits of proportional closed-loop weapon guidance throughout target engagement
Single channel RS422 communication interface and simple to implement in host systems
Comprehensive Built-in-Test (BIT) functionality
Hermetically sealed rugged mechanical enclosure
Provides mounting position on seeker body for auxiliary sensor.
Features
Spectral response: 1064+/-40 nm
Total circular field of view: 50 degrees
Acquisition sensitivity: Classified information upon request
False acquisition rate: < 1 per hour
Dynamic range: Classified information upon request
Angular accuracy: < 0.5° terminal accuracy
Input voltage range: 18-36 V dc, 28 V dc nominal preferred
Power dissipation: < 10 W
Dimensions:

Front diameter 51 mm x 142.5 mm length
Flange typical diameter 76 mm

Mass: 350 g typical
MTBF: Available upon request
Operating temperature: -40°C to +71°C
Storage temperature: -50°C to +85°C
Altitude: >=25,000 ft ISA
Vibration: Proven against typical rotary wing spectrum