HAWK-C
Medium Wave Infrared (MWIR)
The Hawk-C Medium Wave Infrared (MWIR) detector is a compact and lightweight 640 x 512 Mercury Cadmium Telluride (MCT) Integrated Detector Cooler Assembly (IDCA). The detector is designed for high-performance, low-cost imaging in the 3-5 μm waveband.
To reduce size, weight, and power, the MCT (grown by the MOVPE process) is operated warmer than the standard Hawk IDCA, allowing the use of lower-powered coolers and promoting longer engine life.
Hawk-C is available either as an IDCA with a similar electrical interface to Hawk or proximity electronics.
The proximity electronics also provide the IDCA with drive signals and sensitive power supplies.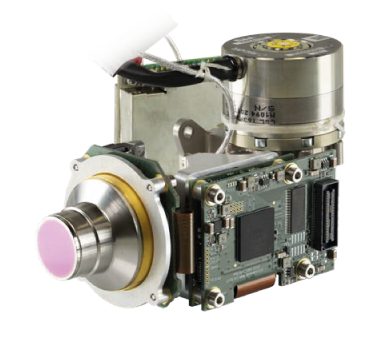 Key Features
Technical Specifications
Technical Drawings
Medium wave 3 - 5 μm
Small element 16 μm pitch enables miniaturization of the Dewar assembly and optics
High electro-optic performance with low crosstalk, automatic anti-blooming at the pixel level, and excellent sensitivity
Higher operating temperature

Longer cooler life
Less in-service support
Lower through-life cost
Flexible windowing gives enhanced frame rates over selected areas of the array
Variable gain via user-selectable integration capacitors
Snapshot or rolling readout operation
Simple to use with proximity electronics available
Format
Array: 640 x 512 pixels
Pixel pitch: 16 µm
Active Area: 10.24 x 8.19 mm
Typical Performance
NETD: 20 mK (300 K, F/5.5, 50% well fill)
Pixel operability: 99.9% at 110 K
Modes: Snapshot or rolling reset
Charge capacity: 7 x 106 electrons
Number of outputs: 4
Pixel rate: 10 MHz per output
Array temperature: 110 K
F/#: 5.5 (standard, others available upon request)
Window material: Germanium
Window thickness: 1.25 mm
Cold filter material: Silicon
Cold filter thickness: 0.4 mm
ICDA With K563 Cooler (Typical Values, 20°C AMB)
Mass: 384 g (with CCM)
Cooler power supply: 12 V
Power consumption: 3 W steady state, 16 W cooldown
Cool down time: 180 sec 20°C amb
Operating temperature range: -35°C to +65°C
Proximity Electronics (Optional)
Power supply: 5 V
Power consumption: <2 W
Interface: LVDS, CameraLink compatible
Weight IDCA & proximity electronics: 435 g
Options Available Upon Request