COMPACT I²R SEEKER
Precision Weapon Guidance System
The Compact I²R Seeker product is a precision guidance solution giving even small caliber weapons the capability to detect and track targets using high-performance uncooled infrared imagery and wide-angle sightline steering and stabilization in a very compact and affordable package.
In comparison with an equivalent conventional gimbal configuration, due to its unique design, the Compact I²R Seeker can achieve an approximately 30% reduction in caliber size, whilst maintaining high performance.
The complexity and dynamics of the modern land battlefield and short-range air defense scenarios place challenging demands on guidance systems for precision attack weapons, in particular for compact and low-cost systems. The requirement for highly target-selective and accurate terminal guidance across a broad range of scenarios cannot be achieved by GPS/INS, commanded, or designated line-of-sight systems alone.
Compact I²R Seeker builds upon Leonardo's world-leading electro-optical seeking capabilities and has been developed to meet the increasing demand for affordable
and compact high precision-guided weapons.
The Seeker sensor, with its high-performance detection and tracking algorithms, is designed for compatibility with future surface or air-launched guided weapons and for the prosecution of modern battlefield and short-range air defense threats.
The Compact Seeker is equipped with a number of sub-modes, enabling the seeker to work with customer-developed detection and tracking algorithms or to retain Leonardo's high-performance algorithms.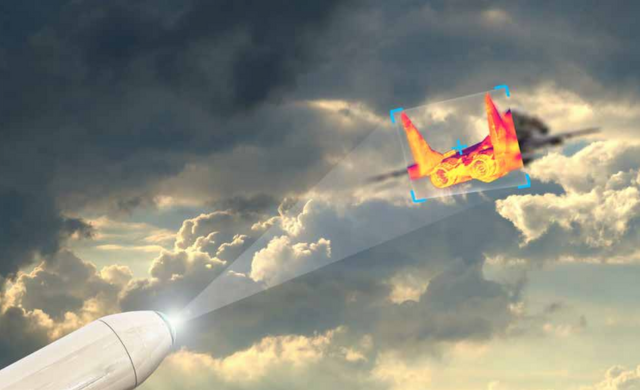 Key Features
Technical Specifications
Compatible with Lock-on-before-launch (LOBL) or Lock-on-after-launch (LOAL) concepts of operation, either of which can be operated autonomously or via an operator
Baseline body caliber of 76.2 mm and a mass of approximately 1.5 kg
Body caliber tailorable to higher caliber systems to offer additional performance benefits
Uncooled imaging IR sensing performance, building upon Leonardo's pedigree from proven in-service uncooled imaging IR-based guided weapon systems
Highly agile sightline steering and stabilisation providing compatibility with severe weapon base motion and maximum flexibility for acquisition, tracking, and guidance techniques

BASELINE 76.2 MM CALIBER VARIANT
Spectral response: 8-12 um long-wave infrared
Baseline variant 480 x 640 array format
High-resolution field of view
Field of regard: > 40° (full-angle)
Sightline Slew Acceleration: > 100 rad/s²
Angular reporting accuracy: < 2 mrad
Input voltage range: 28 V DC nominal
Power dissipation: < 50 W (mean)
Dimensions: 76.2 mm diameter x < 230 mm length (excluding external connectors and IMU)
Mass: < 1.5 kg
Operating temperature: Proven against -40°C to +71°C
Storage temperature: -50°C to +85°C
Latex: Proven against sustained 30 g
Vibration: Proven against typical > 4 g ms spectrum