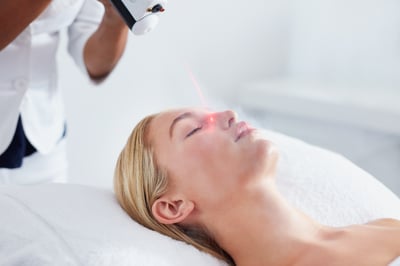 New product improves ease and use of reliability of medical laser systems
Lasertel has recently launched a new product in the fluid cooled laser diode array product family, the T6Air™. This lightweight array addresses two main issues: weight and reliability. VP of Engineering, Prabhu Thiagarajan shares what the T6Air™ lightweight array offers for medical laser systems.
The name of the product has "Air" in it, so system integrators know it is lightweight. Where did the need for lightweighting come from?
We received feedback from manufacturers of various kinds of therapeutic and aesthetic laser treatments, who were using traditional hand pieces. These hand pieces are heavy and having to move it around on patients' skin was causing discomfort and fatigue to the practitioner.
While the T6Air™ is only one component of the hand piece, anything we can do to help reduce the weight is valuable to practitioners.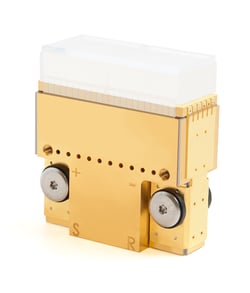 How does the T6Air™ meet the needs of practitioners?
It is designed with Lasertel micro optics technology, replacing bulky waveguides to offer a compact, lighter solution for handheld medical devices. The T6Air™ has all of the same features as Lasertel's standard T6 fluid cooled laser diode array but offers:
< 1/2 the weight (<1/3 the weight of current solutions when optics are included)
Clean beam shape
Increased flexibility and reliability
How did you address the weight without sacrificing performance?
We designed this with lighter materials overall. A key weight reduction was in the light waveguide. Originally, a solid piece of glass was used for light feedback and was 3-4 inches long. This was replaced with lighter micro optics technology less than a millimeter wide weighing almost nothing.
Another disadvantage to using the solid piece of glass was that a patient's skin, depending on the skin color, could reflect back significant light into the array, which reduces lifetime of the array. The new array with micro-optics is designed to scatter any reflected light, rather than guiding it back into the array itself.
The T6Air™ with optics is 65% lighter than current configurations and is more reliable. Lasertel addressed the weight problem and actually increased performance, too.
Are fluid cooled laser diodes the ideal components for medical laser solutions?
Fluid cooled laser diodes are the ideal components for medical applications, especially considering the output powers needed for these applications. For any application that has a high heat flux density, fluid is the best method to remove heat. Nothing else (air, etc.) can handle this kind of heat density.
What opportunities will the T6Air™ bring for medical applications?
The capabilities of the T6Air™ with optical elements will benefit:
Applications where source size is important
Systems that require more power in a small area
Medical system hand pieces that require lighter weight
Reliability improvement in treatments that reflect light back to the laser array
Is the T6Air™ on the market yet for customers?
Yes! You can check out technical drawings and request a quote for the T6Air™ here, as well as our other fluid cooled laser diode array options. Have questions? Contact our expert engineering team at info@lasertel.com.
To learn more about the new T6Air™ and medical laser system improvement, download Lasertel's white paper, "Lightweighting Medical Systemsthrough Improved Laser Diode Design."