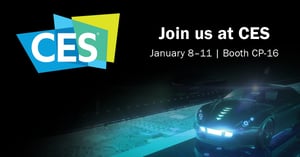 Lasertel will showcase our integrated drive electronics and laser sources for automotive LiDAR applications at CES 2019. You can find our team in the LeddarTech Pavilion (CP-16) throughout the show, January 8 – 11 in Las Vegas, Nevada.
LeddarTech, an industry leader in providing versatile and scalable automotive LiDAR development platforms, recently announced their Leddar Ecosystem partnership with Lasertel. This new partnership is focused on integrating Lasertel laser diode and VCSEL based sources into LeddarTech's next-generation LiDAR systems for passenger cars.
"Lasertel has demonstrated fully integrated source modules with a superior performance level. They have met our demanding power and repetition rate requirements. LeddarTech is very appreciative of the amount of integration and customization that Lasertel has provided," said Pierre Olivier, CTO of LeddarTech.
"We are excited to be part of LeddarTech's Ecosystem and providing integrated laser sources for their cutting-edge LiDAR platforms. Our technology contributes to LeddarTech's current and future product design solutions as part of their Auto and Mobility LiDAR Platform. You can see our integrated product in action in the LiDAR long range demo at the LeddarTech Pavilion," said Linda West, Lasertel's business development representative for automotive LiDAR.
During the show, Lasertel will provide three opportunities for interested individuals to learn more about their technology through a workshop, "Lasertel's Laser Modules for Automotive LiDAR," in the Ecosystem Classroom of the pavilion. Each workshop will allow for 25-30 attendees and take place at the following times:
January 9, 9:00 – 9:30 a.m.
January 10, 2:00 – 2:30 p.m.
January 10, 2:30 – 3:00 p.m.
Request a pre-show registration here.
Learn more about our customizable laser diodes and commitment to evolving capabilities and expertise in the automotive industry here. To schedule a meeting with us during CES, submit a request.
---
Interested in learning more about automotive LiDAR? Check out a few of our resources: