Demand for directed energy weapons is growing rapidly, projected at a CAGR of 23.26% through 2025, to meet the Department of Defense's need for accuracy and precision of non-lethal weapons to combat emerging threats such as UAVs. As threats broaden, so do needed platforms: man-portable, ground or naval-based air defense against aerial targets and long-range, short-range, and medium-range strategic missions.
Innovations in the laser pump source have had a significant impact on SWaP-C, but advances system-wide are required to achieve power, weight and cost targets. Leonardo Electronics US, through our laser solutions, is a market-leading provider of such pumps, and has contributed to the ongoing innovation in this field.
Through advancements in the pump source, Leonardo can now achieve the same power at ½ the size
Read more about the success of the Megawatt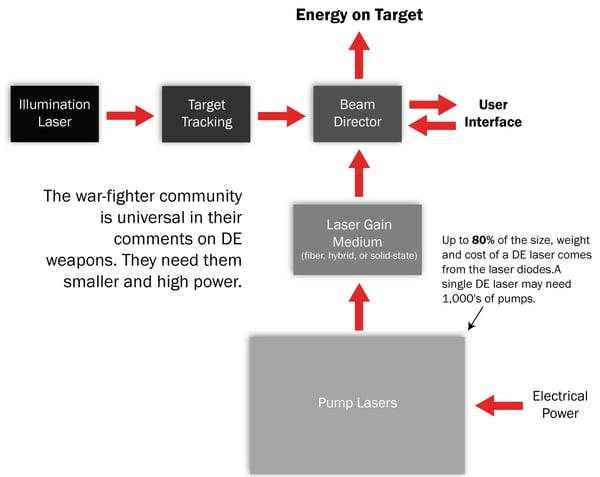 Figure: Leonardo Electronics is innovating in both pump lasers and beam directors to improve directed energy power and reduce weight.
As a top DoD priority, bringing directed energy to production viability will require systems and collaborative thinking among major US Government prime contractors and their suppliers. Leonardo Electronics, a provider of the beam director for directed energy systems, has contributed substantial R&D for this component by shaping and pointing the beam to maximize damage.
Collaborative industrial consortiums, such as the $36 M Dragonfire initiative from the UK Ministry of Defence, prove valuable to advancing directed energy technology. Leonardo, MBDA, Qinetiq, and BAE Systems are all a part of Dragonfire, whose goal is to develop and demonstrate a point defense system from incoming fire, testing its effectiveness at various ranges and in weather conditions over land and sea.
Following the initial Dragonfire program, the UK has announced its intention to invest an additional $162M to develop three directed energy weapon demonstrations, including one to target drones.
Leonardo Electronics US is expanding its engineering services and working together to bring component-level knowledge to its customers' systems. In April 2020, during our DCS 2020 virtual event, we discussed these initiatives and more exciting advancements.
Learn More: