The Leonardo team was proud to participate in the 6th annual Arizona Photonics Days in January, welcoming optics and photonics industry attendees from around the world. Our Tucson-based laser solutions business unit hosted a tour and social event in the lead-up to this annual event that highlights the region's strengths in laser technology.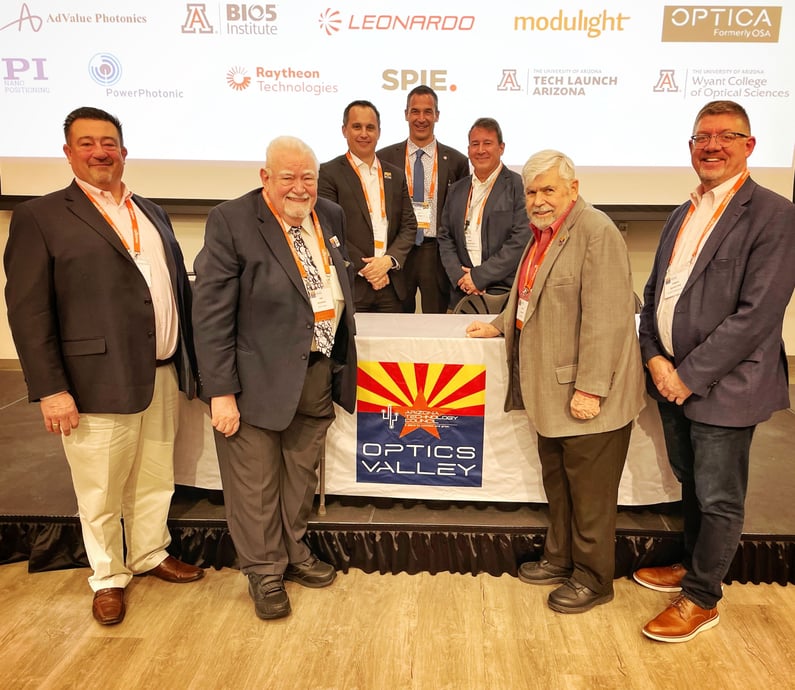 From left to right: Todd Ditmire, CTO, Focused Energy; Jack Schumann, Optics Valley Co-Chair, Arizona Photonics Day Co-Chair; John Dennis, President and Co-Founder, Strategy 1, Optics Valley Chair; Robert Walker, Leonardo Electronics US, Vice President of Strategy and Business Development, Optics Valley Co-Chair; Lukas Gruber, Leonardo Electronics US, Director of Business Development, Optics Valley Laser Session Chair; Steve Patterson, Leonardo Electronics US, CTO; Greg Quarles, Applied Energetics, CEO
Robert Walker, Leonardo Electronics US VP, Strategy and Business Development co-chaired the conference with Jack Schumann, Co-Chair, Optics Valley. Lukas Gruber, Ph.D., Director of Business Development, chaired the laser technology session, joined by committee leaders from Optics Valley, the University of Arizona, and other Arizona-based technology companies.
Optics Valley, a committee of the Arizona Technology Council chaired by John Dennis, connects, convenes, and inspires collaboration between tech companies in the community. Arizona Photonics Days is one of the networking opportunities for leading companies to share technology advances and have a larger voice in the industry. Optics, photonics, and imaging is a broad industry, and this conference dives into the unique segments in which the region excels: astronomy, metrology and sensing, quantum, laser technology, and biomedical. Arizona companies are developing solutions for critical challenges like defense and clean energy, pioneering in direct energy, green energy, fusion energy, and quantum technology. Tucson, home of the University of Arizona, is the US leader in astronomy, and this year's Astronomy Session, chaired by Richard Green, Ph.D., Assistant Director for Government Relations, Steward Observatory, University of Arizona, along with the paper on the James Webb Space Telescope, drew a crowd.
Arizona Photonics Days is growing every year, in large part due to the support of AZTC leadership. This year, the international audience included attendees from photonics clusters in in Canada, Germany, Israel, Mexico, Poland, and the UK, many of whom were en route to Photonics West. Based on attendee feedback, conference co-chairs added new tracks, like this year's ceramics and glass sessions.
"Arizona Photonics Days 2023 was a showcase of the leading research and innovations from top-tier optics and photonics companies from Arizona and around the world," said Karla Morales, Vice President, Southern Arizona Regional Office, Arizona Technology Council. "The breadth of critically important applications covered life-saving cancer detection to laser fusion energy and its potential to produce abundant clean energy point to a brighter future for all of us. AZTC and Optics Valley are 100% committed to accelerating the growth of this industry in Arizona and to hosting another outstanding Arizona Photonics Days in 2024."
Community involvement is one of our core values. Events like Arizona Photonics Days allow us to interact and engage with smaller businesses in the industry, strengthening our supply chain and reinforcing partnerships for independent engineering analysis and testing, for example. It provides a venue to introduce ourselves and our company to students and potential employees, raising the visibility of Leonardo, our work, and the photonics industry's impact on the region. (Learn more about Leonardo career opportunities.)
Missed us this year? Save the date for next year's Arizona Photonics Days, January 24-26, 2024.