The laser solutions team recently had the opportunity to take in the future of transportation and consumer electronics at CES 2020. Below are a few of the highlights from their time on the show floor.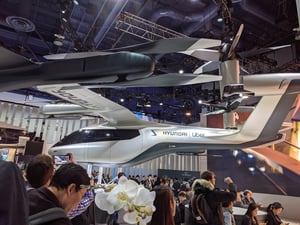 One of the most unexpected concepts unveiled at the show was Hyundai Motor Group's air taxi. The futuristic vehicle is part of the Urban Air Mobility concept Hyundai designed in partnership with Uber Elevate, the ride-hailing company's yet to be introduced urban air travel service. This was one of several progressive city transport concepts debuted at CES 2020.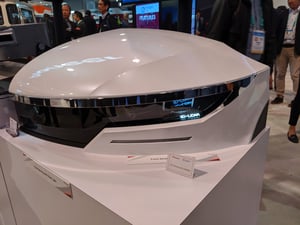 Pioneer's Smart Sensing Innovations Corporation introduced their latest autonomous driving technology, a new front-sensing 3D-lidar headlamp at CES. The company plans to mass-produce the 3D lidar sensor in a compact size for level 3 and above autonomous driving vehicles in the second half of 2020.
It's clear from the considerable number of advancements in applications for the automotive industry that lidar technology is continuing to solidify its position as an essential component of autonomous vehicles in the consumer space.
Some of the most attention-getting lidar technologies unveiled at the show featured advanced integration, enhanced safety capabilities, lower price points and reduced environmental impacts. The Consumer Technology Association's CES 2020 Innovation Awards highlighted a MEMS-based smart lidar sensor for self-driving vehicles with its own embedded AI algorithm and SoC (system on a chip) as well as sensors that offer a groundbreaking new scanning method to deliver better sensing performance with greater cost-efficiency.

The inspiration we brought home with us from CES 2020 continues to fuel our own development of lidar illumination source technologies. We are really excited about the potential for enhanced vision capabilities for improved driver safety. We are currently working to advance these technologies for driver-operated and levels 4 and 5 autonomous vehicles for major automobile manufacturers.
Another key takeaway from CES 2020 for the laser solutions team is tackling the scalability of lidar technologies to drive out cost and meet the expected volume demands of the automotive industry. As we continue to work with clients to design lidar source automotive solutions, cost-efficiency is a high priority and it is no doubt an important consideration that will continue to dominate CES discussions in the future.
To learn more about partnering with Leonardo on your lidar source project, contact us today!
---
Get the latest on lidar technology design for automotive applications with our white paper: