SP-1450/N-E
Airborne Intercommunications System
The SP-1450/N-E Intercommunications System (ICS) completes the company's line of defense communications products for applications onboard fixed-wing and rotary-wing aircraft. It has been designed to manage all radio communications and navigation equipment, data links, and internal/external communications facilities and to integrate their functionality into a single, Tempest proven, architecture.
The SP-1450/N-E ICS provides switching and routing functions to configure the platform's internal and external communications resources and relevant access by the users to such facilities. These functions are supported by control, amplification, and interfacing for all the radio communications facilities installed on the platform and by flexible intercom facilities.
The digital design of the SP-1450/N-E ICS is modular, flexible, and based on an open architecture so that it can be configured to meet various requirements. Extensive use of fiber optics connections and appropriate wiring layouts are used to reduce crosstalk and EMI in order to satisfy all TEMPEST requirements.
The SP-1450/N-E ICS is configured into the following LRUs:
Communications Management Unit (CMU) SP-1451/N-E
Main Station Unit (MSU) SP-1452/N-E
Secondary Station Unit (SSU) SP-1453/N-E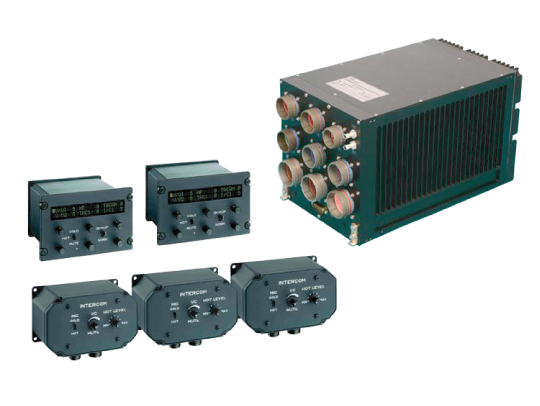 Key Features
Technical Specifications
TEMPEST performance compliant with AMSG 784B Volume I requirements
EMI performance compliant with MIL-STD-461 specifications
MIL-E-5400 requirements
Extended components/functions integration, to allow for weight and volume saving
Full system redundancy for critical functions
Analogue Back-up circuitry for three Main Users
Interface with different cryptos and LINK-11 DTS
Integrated Warning Tones Generation and management function Integrated Headset Interfaces (hi/lo impedance and/or stereo headset compatible)
Sunlight readable and NVG compatible operator panels
Hot-mic mode in intercom operation
Software oriented design for maximum flexibility and growth capability
Digital switching matrix for voice/data routing and distribution
Selection by the user of the desired communications channel(s)
Remote control of the system's configuration by the aircraft computer over multi-bus interface (MILSTD-1553)
BITE capability with identification of the failure at LRU level
Modular construction
Use of fiber optics signal bus to avoid crosstalk
Audio Interference Bandwidth: 300 Hz to 2500 Hz
Audio Input (Adjustable)
Minimum level at 150 Ohm: 100 mVrms
Maximum level at 150 Ohm: 2.5 Vrms
Minimum level at 600 Ohm: 500 mVrms
Maximum level at 600 Ohm: 11 Vrms
Audio Output
Minimum level at 150 Ohm: 100 mVrms
Maximum level at 150 Ohm: 1.4 Vrms
Minimum level at 600 Ohm: 500 mVrms
Maximum level at 600 Ohm: 5 Vrms
Dimensions and Weight
SP-1451/N-E - CMU: 3/4 ATR - 9.5 Kg
SP-1452/N-E - MSU: 110 mm (W) x 95.2 mm (H) x 146 mm (L) -
1.27 Kg
SP-1453/N-E - SSU: 91 mm (W) x 80 mm (H) x 151 mm (L) - 1 Kg
MTBF(as per MIL-HDK-217D):

CMU ≥ 1500 OH
MSU ≥ 6000 OH
SSU ≥ 12000 OH

MTTR: 20min
Headset
Earphone Output mono (nominal): At 150/600 Ω, power 250 mW +/- 10 %
Earphone Output stereo (nominal): At 300 Ω + 300 Ω; power 125 mW + 125 mW
Bus interfaces: MIL-STD-1553B ARINC-429
Primary power: +28 Vdc as per MIL-STD-704
Power consumption:

SP-1451/N-E - CMU 75 W
SP-1452/N-E - MSU 17 W
SP-1453/N-E - SSU 10 W

Operating temperature: -40°C to +71°C (Without forced air cooling)
Storage temperature: -55°C to +90°C
Relative humidity: Up to 95%
Altitude: Up to 70,000 ft
EMC: As per MIL-STD- 461/462
TEMPEST: As per AMSG 784B volume I