CMDP
Cockpit Mission Display Processor
The Cockpit Mission Display Processor (CMDP) is a high safety avionics computer platform with a powerful embedded graphics capability. It is configured using the base of the standard hardware and layered software modules, both developed by adopting the latest quality standards that make the CMDP certifiable according to DO178B and DO254 level B (optionally level A) and suitable as a main cockpit mission computer.
The CMDP is capable of performing highly integrated mission management tasks including embedded dual head cockpit graphics generation and advanced digital map. It offers enhanced functionality, innovative graphical features, and an innovative Human Machine Interface (HMI).
It can be configured to the specific customer's mission requirements utilizing a dedicated ground based software tool that is used for the main operating functions.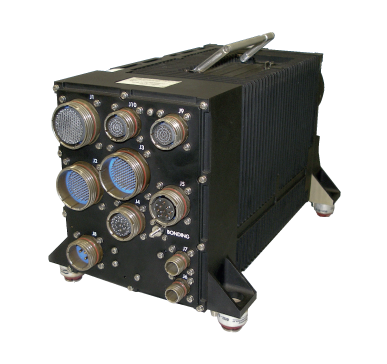 Key Features
Technical Specifications
Management of the Tactical Situation Display, filtering of graphic data, layering of data
Management of platforms and missions using visualization of the interactive table of data, menu, and dialog windows
Management of the mission sensors including the settings for operating modes and working parameters
Integration of tactical data links to allow execution of cooperating missions
The CMDP uses an embedded mass memory to store pre-flight data such as map databases, intelligence data, and navigation data and to store data history for flight, mission, and maintenance purposes. A typical system configuration for a cockpit mission system includes a single (or optionally dual) CMDP, one or more displays, and external sensors from which A/C data and tactical information can be acquired to accomplish the mission.
MDP Physical Characteristics
Dimensions: 5 MCU
Weight: 9.5 Kg maximum
Power Requirements: 28 VDC
Power Dissipation: 85 W
Cooling: Convention cooled, closed enclosure
MTBF: 2500 operative hours
Connectors: Up to 9 connectors MIL- STD-38999 and 2 Triax for 1553 Avionic- Bus interfacing
Performances Processing & I/O
Performance:

(CPU Board) CPU Speed (frequency): 1.000 GHz
2,000 DMIPS
1 GB DDR SDRAM

Architecture: Modular Open System Architecture according to VITA 46 (VPX)
System Bus: System bus implemented using High speed Serial bus (PCIe)
Processor Architecture: Modular architecture based on the PCI and PCIe local buses
CPU: AMCC Processor PPC460EX @ 1 Ghz
I/O:

Interfaces Dual redundant MIL-STD-1553 Interface
RS4 22 serial interfaces
RS23 2 serial interfaces
Ethernet 10/100Base T
Arinc 429
USB
AFDX (optional)
Discrete and analogue

RT Operating System: GHS Integrity 178 B
Software Factory: ADA, C
OpenGL: Safety Critical OpenGL
Environmental
Temperature: -40°C to +70°C (operating)
Vibration (random):

0.0452 g2/Hz (lh/axis) Functional
0.0125 g2/Hz (lh/axis) Endurance
EMC: In accordance with MIL-STD-810 and RTCA/DO-160
Applicable Standards
MIL-STD-810D
MIL-STD-704D
MIL-STD-462 (Test) & 461 (Req.)
MIL-STD-1553B
EIA-STD-RS422/485
STANAG S3350A, B, C , XGA (synch on green), DVI
RTCA DO-178B level B (optionally level A)
DO-254 level B
ARINC 429
VITA 42.0 & VITA 42.3
Options for Software
Equipment SW only, in accordance to DO-178B level B (optionally level A)
Equipment SW and Digital Map SW, in accordance to DO-178B level B (optionally level A)
Equipment SW and Operating Flight Program SW, including dual heads EFIS graphics generation, in accordance to DO-178B level B (optionally level A)