AMMS
Aircraft and Mission Management System
The
AMMS
is a powerful computing system designed to provide processing features to rotary wing aircraft, including Navigation & Flight Management, Cockpit Display Management, and Aircraft Plants Management.
The System is composed of:
Two AMMCs Units (the Computer Core)
Two Data Transfer Units
A Control Panel
The AMMS provides the capabilities to acquire, process, and manage information and aircraft plant data from EFIS/EICAS, relevant CNI equipment, and AFCS, in a reliable, high performance environment. It is based upon a core consisting of two identical computers (AMMC, Aircraft and Mission Management Computers), synchronised and concurrently performing the same operations in a master/hotstandby architecture, which allows, in case of failure of the Master, a totally automatic reconfiguration for all system functionalities, therefore resulting in a high mission availability.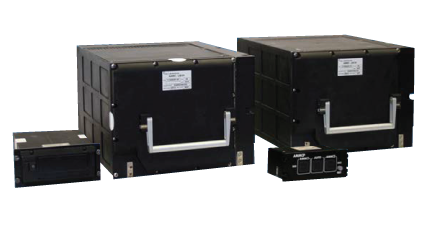 Key Features
Technical Specifications
Redundant LRI configuration
PowerPC G4 MCS-E 500Mhz processor
Easy addition of additional processor module and I/O
I/O configuration for different aircraft
COTS RTOS based on I-178B by Green Hills
Dedicated equipment software and ADA
development environment for application
Digital maps: symbol generation & vectorial layers
Synthetic voice generator
Redundant MIL-STD 1553B I/F operates as BC/BM/RT
High communication throughput

Ethernet 10/100 baseT
MIL-STD-1553b
ARINC 429
ARINC 739
RS485 HDLC

AFDX Copper/Optical I/F compliant with ARINC664
High data storage capability (up to 8GB)
Civil specification compliance

RTCA/DO-160D
RTCA/DO-254
RTCA/DO178B
AMMC is a 1 ATR size housing, with integrated power supply and up to 13 MCS standard boards.
Processor G4 MCS-E Power PC 500 MHz, 256MB RAM, 96MB Flash, 2MB cache, with a 2MB NOVRAM.
Synthetic Voice Generator
Digital Map Generator: G4 MCS-E with graphic mezzanine for map generation functionality
Interfaces
2 MIL-STD-1553 BUS I/F BC/BM/RT
20 TX ARINC 429 and 34 RX ARINC 429 channels
4 TX and 4 RX ARINC 429 Non-Time-Framed channels
250 Discrete Input Signals
17 Discrete Output Signals
6 AC Analogue High Level
54 DC Analogue Input
17 Accelerometers sensors
Magnetic Pick-Up
STANAG 3350 RGB Video output
Synthetic Voice Generator
Technical Features (AMMC)
Size: 1 ATR Short
Weight: 15.2Kg (bi-processor)
Power requirements: 115VAC @ 400Hz
Power consumption: 180W
Cooling: Forced air cooling (ARINC 600)
MTBF: 2500 operating hours.