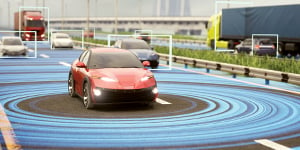 Ultra-short Pulse NIR and SWIR Laser Diode Illuminators for Automotive Lidar
Get the Webinar Recording
Webinar led by Robert Walker, VP of Sales and Marketing
To request the on-demand version, submit the form.
Tier 1 automotive suppliers are pursuing multiple approaches to lidar in order to meet volume, power, eye safety, and reliability requirements. Advancements in VCSEL and edge emitter laser diode technology are enabling solid-state lidar to become a key technology for mass deployment of Automated Driving Assistance Systems (ADAS) at higher levels of autonomous driving.

In this 30 minute webinar, Robert will provide an overview of a paper discussing advancements in integrated, low cost solid-state laser diode based illumination sources. Data will be presented on state-of-the-art near-infrared (NIR) and short-wave infrared (SWIR) sources.
---

Additional Automotive Lidar Resources: