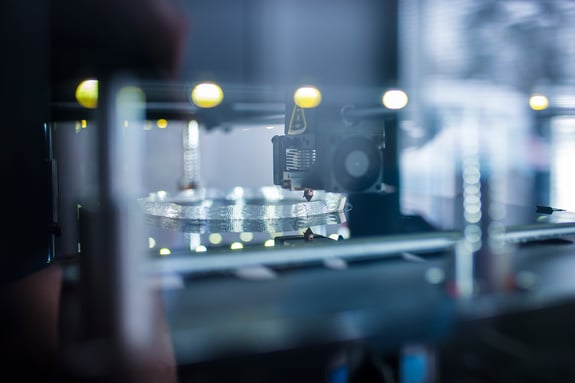 Material Processing
Leonardo Electronics US is a supplier of key components for material processing in industrial applications. Our flexible and custom laser diodes can increase efficiency, throughput, and performance for applications, such as automated fiber placement, thermal annealing, additive manufacturing, and more.
Leonardo's beam control and flexible packaging can make a difference to meet your manufacturing demands.
Market Shift to Laser Systems
Leonardo's semiconductor laser manufacturing facility uses proprietary manufacturing processes to build the most efficient and powerful laser diode components on the market. Our laser solutions are suited for specialized industrial processing applications.
The shift to laser systems is driving a US manufacturing renaissance. There has been a large-scale movement toward the use of additive manufacturing, 3D printing, and laser marking.
We are currently co-developing next-generation industrial laser pump technologies with the industry's largest industrial material processing laser manufacturer. In addition, we have delivered a record-setting Megawatt Laser to the EU Extreme Light Infrastructure project.
Featured Product Families
Automated Fiber Placement
As manufacturers turn to laser systems for materials processing, niche applications present unique demands. One such application is composite joining, for which Leonardo has used free-space direct diodes.
Food Packaging
In wide-ranging materials processing applications, manufacturers are turning to laser systems to replace heated coil elements for their energy efficiency and precision. In food manufacturing, laser diodes are used for seam welding and shrink wrapping.
Additive Manufacturing
With the shift to automation in manufacturing, laser diodes are increasingly used to weld metals and other materials. Direct diode lasers can help build this advantage and keep up with increasing demand.
Thermal Annealing
Laser diodes are used for rapid thermal annealing systems and other manufacturing processes that require uniform and precise energy delivery. Free-space direct diode systems offer:
Directional heat
Temperature directed control
Physical space savings
Electrical savings
Long and predictable operating lifetime
In a semiconductor environment, where downtime can cost $1M per minute, laser diodes represent a significantly reduced total operating cost.
Subscribe to Our Blog
Get the latest news and announcements from Leonardo Electronics US right to your inbox.