VULCANO
Long Range Land and Naval Ammunition
VULCANO is a family of unguided (BER) and guided (GLR) ammunition for the 76 mm, 127 mm, and 155 mm land artillery systems.
The VULCANO 76 mm gun system is a leap ahead of the competition, dramatically increasing its already outstanding artillery performances in the roles of Naval Gunfire Support (NGS) and Anti-Surface Warfare.
The VULCANO 155 mm ammunition gives the 155/52 caliber and 155/39 caliber Howitzers the capability to extend their operative range and precision beyond the actual limits, minimizing engagement costs and collateral damages.
(A joint program with Diehl Defence)
The VULCANO 127 mm rounds capitalize on new and emerging technology based upon a fin stabilized airframe with canard control for terminal guidance; mechanical interfaces are the same as standard 127 mm ammunition. Read latest news on VULCANO 127 mm.
Key Features
Technical Specifications
VULCANO 76
BER
Compatible with any of the company's in-service 76 mm guns including Strales Configuration, needs only new range tables provided
Compatible with any of the company's in service 76 mm gun including Strales Configuration, needs adaptation kits

Digital Control Console or adaptation kit (mandatory)
GPS receiver
Multi-ammo selection system (recommended)
Growth potential
Semi Active Laser (SAL) terminal guidance for land mobile target engagement


VULCANO 127
Higher range, extending the conventional 127 mm naval
guns operative ranges more than three times
Higher precision at any range
Less collateral damages
Minimization of engagement cost
Capability to nullify Target Location Error (TLE) for stationary and moving targets (with IR and SAL Seeker)
State of the art Insensitive Munition (IM) design
VULCANO 155
Higher range, extending the conventional artillery operative ranges up to three times
Higher precision at any range
Less collateral damages
Minimization of engagement cost
Capability to nullify Target Location Error (TLE) for stationary and moving targets (with SAL Seeker)
State of the art Insensitive Munition (IM) design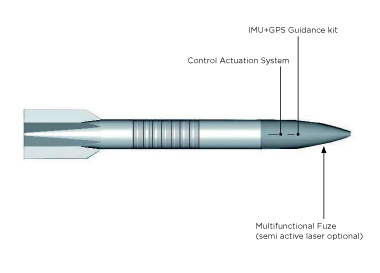 Ammunition Configurations
VULCANO 76
BER (Ballistic Extended Range)
Unguided multipurpose (AAW, ASuW and NGS)
Over 30 km range
Multifunctional Fuze

altimetric
proximity
time and air burst
impact and delayed impact
GLR (Guided Long Range)
Guided for NGS missions
Over 40 Km range
Multifunctional Fuze
GPS & IMU Guided
GLR/IR (Guided Long Range Infra Red)
Guided for ASuW missions
Up to 40 Km range
IR Sensor for terminal guidance
VULCANO 127
BER (Ballistic Extended Range)
Unguided multipurpose ammunition
Up to 60 Km range
Multifunctional Fuze

Altimetric
Proximity
Time
Impact/delayed impact

Notched HE warhead
Ballistic accuracy
GLR (Guided Long Range/IR)
Up to 80 Km range
Autonomous IMU+GPS guidance
IR Terminal guidance
Precise anti-ship firing
Notched HE warhead
GLR (Guided Long Range) Guided ammunition for NFS
Up to 100 Km range
Autonomous IMU+GPS guidance
Precise shore bombardment firing
Notched HE warhead
SAL terminal guidance(optional)
Ship integration
Any equipment to operate Vulcano ammunition is integrated into gun control cabinet including:
Guidance Control Unit
Programming device for ammo initialization
Digital interface with ship data transfer system
VULCANO 155
Ballistic Extended Range (BER)
155/52 cal range up to 50 km
155/39 cal range up to 36 km
Multifunctional Fuze
Altimetry
Impact/Delayed impact
Time
Notched HE warhead
Ballistic accuracy
Guided Long Range (GLR)
155/52 cal range up to 70 km
155/39 cal range up to 55 km
Autonomous IMU + GPS guidance
CEP ≤ 5m on coordinate at any operative range
SAL terminal homing with CEP ≤3m on target at any operative range
Precise bombardment firing
Notched HE warhead