Case Study: How Multi-Wavelength Laser Diodes in Medical Lasers Improve Treatment Spectrum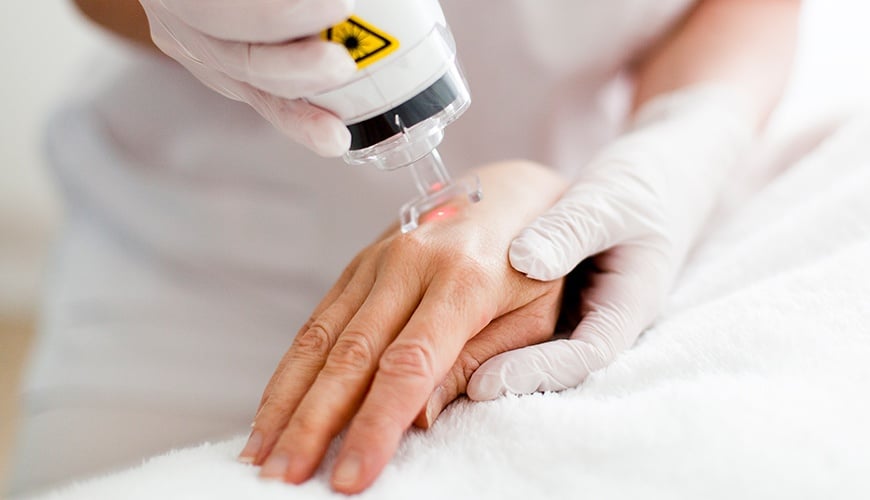 Leonardo Electronics US, formally Lasertel, partnered with a global provider of medical laser solutions for the aesthetic and surgical markets to develop a key laser diode technology for laser hair removal.
The Challenge
This project was a customer-driven design, seeking a unique capability to enable the treatment of a range of skin and hair types with a single handpiece. Leonardo began to explore the laser hair removal treatment process, considering both the practitioner and patient experience.
A significant challenge affecting the treatment spectrum and treatment time was that medical laser handpieces for laser hair removal were predominately single-wavelength, limiting the effectiveness of the treatment to certain skin and hair types. Multiple wavelengths are required to effectively treat a larger range of skin and hair types.
The Solution
Laser diode design in aesthetic laser solutions can significantly impact the system's ease of use and treatment time. It was our job to provide within the system an inclusive laser diode that would work well for all skin types and ultimately improve the practitioner and patient experience.
Our team referred back to the Fitzpatrick scale, used to classify skin types in terms of how they respond to UV radiation. Leonardo's approach to aesthetic laser solutions combines the absorption and penetration levels of multiple different wavelengths in a single handpiece to create a single laser diode array that effectively treats multiple skin and hair types.
Here are the key features of Leonardo Electronics US's medical laser diodes:
Multiple wavelengths from 760 nm to 1100 nm in a single stack
Durable, monolithic laser diode array assemblies that survive the extended operation and minimize failure due to handpiece drops or mishandling
No requirement for deionized water, resulting in lower system costs and reduced maintenance
Reduced size and weight for a more comfortable provider experience
Our medical laser diodes include our product families of Fluid Cooled Arrays and, Conductively Cooled Laser Diodes.
The Impact
Leonardo's laser diode design has widened the treatment spectrum using a clustered diode technology, which is a laser hair removal handpiece in this case. The success of this laser diode design gave the laser solutions team at Leonardo Electronics US the opportunity to continue the partnership on more laser diodes using different wavelength combinations. Aspects that were addressed include:
Safety: With a proven safety record and minimal discomfort, the system can now target different tissue depths and structures within the hair follicle.
Optimal treatment spectrum: Multiple wavelengths absorb melanin chromophores more powerfully, meeting the needs of all skin types and colors, including tanned skin, light-colored hair, and thin hair.
Treatment time: Procedure times are cut dramatically due to improved setup times, high average powers for deep penetration of the hair follicle, high repetition rates, and fast treatment using a large spot size.
Leonardo Electronics US is a worldwide leading supplier of medical laser components and subsystems for aesthetic, diagnostic, and therapeutic laser treatments. We'll provide you with the photonics behind your innovation.
Learn more about our capabilities in our white paper, Lightweighting Medical Systems through Improved Laser Diode Design: