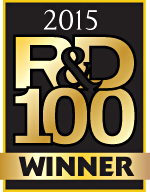 Tucson, Ariz. ― Lawrence Livermore National Laboratory (LLNL) and Leonardo Electronics US, formally Lasertel, were honored as creators of one of the 100 most innovative technologies and services of the past year, as R&D Magazine presented the 53rd Annual R&D 100 Awards on November 13, 2015 at Caesars Palace in Las Vegas.
The 325 finalists in nine categories were selected by an independent panel of more than 70 judges. This year's finalists represent many of the industry's leading organizations and national laboratories, as well as many newcomers to the R&D 100 Awards, often referred to as the "Oscar Awards for Invention."
"This was a particularly strong year for research and development, led by many outstanding technologies that broadened the scope of innovation," said R&D Magazine Editor Lindsay Hock.
LLNL and Leonardo Electronics US joined 45 other finalists in the IT/Electrical category for their High-Power Intelligent Laser Diode System (HILADS), a segment of the High Repetition-Rate Advanced Petawatt Laser System (HAPLS) being developed for the Extreme Light Infrastructure (ELI) Beamlines facility under construction in the Czech Republic. HAPLS will help enable the ELI Beamlines facility to undertake unprecedented research in areas as diverse as medical imaging, particle acceleration, homeland security and quantum physics, opening up applications in many areas of industry as well as cutting-edge academic research.
Leonardo Electronics US's Vice President of Engineering Prabhu Thiagarajan attended the event and accepted the award on behalf of the entire Leonardo Electronics US team. "This was an innovative new project in the industry," Thiagarajan said. "The entire Leonardo Electronics US team worked extremely hard to make this happen and being recognized for that work is very rewarding."
About Leonardo Electronics US Inc. – Leonardo Electronics US is a vertically-integrated manufacturer of high-power semiconductor laser components and developer of customer laser solutions. Servicing the defense, medical and industrial industries, we deliver a wide range of chips, bars, array packages and fiber-coupled devices available with peak wavelengths from 770 nm - 1050 nm, and peak powers from 200 mW - 1 MW. We encourage innovation and complement our unequaled product line with an extraordinary level of personal service. www.Leonardo.us.
About the R&D 100 Awards – Since 1963, the R&D 100 Awards – widely recognized as the "Oscars of Invention" – have identified and celebrated revolutionary technologies. Many of these have become household names, helping shape everyday life. These include the flashcube (1965), ATM (1973), halogen lamp (1974), fax machine (1975), LCD (1980), Kodak Photo CD (1991), Nicoderm anti-smoking patch (1992), Taxol anticancer drug (1993), lab on a chip (1996) and HDTV (1998). More recent breakthroughs earning R&D 100 Awards include next-generation MRI machines, laser-based metal-forming tools and the building blocks for fusion experiments. www.rd100awards.com.
Media Contact
Robert Walker
Director of Sales & Marketing
rwalker@Leonardo Electronics US.com