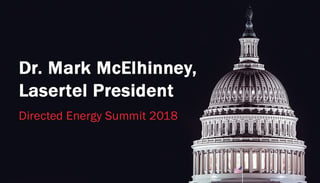 At the fourth annual Directed Energy Summit, March 21-22, co-sponsored by Booz Allen Hamilton and the Center for Strategic and Budgetary Assessments, Leonardo Electronics US's Mark McElhinney, will join industry leaders in a panel to share perspectives on business challenges in meeting current and future high-power laser needs for US security and defense applications.
The summit, held at the Ronald Reagan and International Trade Center Building in Washington, DC, is a classified session, but is expected to address DoD and political attendees' interest in the current state of directed-energy technology. Fellow industry panelists include:
Moderator: Ms. Adele Ratcliff, Director, ManTech
Gary DeBell, Founder and Managing Member, MLD Technologies, LLC
Scott Keeney, Chief Executive Officer and President, nLight
Vincent D. Mattera, President and CEO, II-VI
While the public perceives directed energy as a future technology, high-power lasers are already deployed on multiple DoD platforms. Dr. McElhinney is expected to address high-volume manufacturability and scalability concerns that DoD decision makers may have for high-power laser purchases.
Dr. McElhinney states, "I'm honored to be part of this panel discussing how the DoD and the U.S. industrial base can work together more effectively to support the emerging Directed Energy requirement."
Dr. McElhinney has grown the laser solutions facility, formally Lasertel, through key advancements in laser diode technology with wide application on a range of defense programs, from advanced targeting to directed energy. Today, the Tucson facility is the leading manufacturer of semiconductor lasers for defense applications worldwide.
Interested in learning more about Leonardo's work in directed energy? Download our white paper on high energy laser systems or contact a sales representative today.