DLMS
Data Link Management System
The Data Link Management System (DLMS) is the "CORE" element for Data Communication Systems on Manned and Unmanned Aerial Platforms. The DLMS, as a Tactical Data Link Processor evolution, represents, for onboard systems, the gateway to access voice/data communications over broadband IP-based and legacy
Tactical Data Link systems.
In current military and para-military operational scenarios, fixed, rotary, and unmanned platforms are requested to enhance their communications capability and improve their level of interoperability between heterogeneous forces on air, ground, and sea, while increasing their efficiency in terms of better performance, higher flexibility and modularity.
These requirements can be translated into needs like multiple data link integration, innovative modular architectures to ease the on-board platform integration and to add new capabilities minimizing HW/SW changes, and security management, including support to networked data routing (IP Based) for the full integration of the platform into the net-centric operational environment.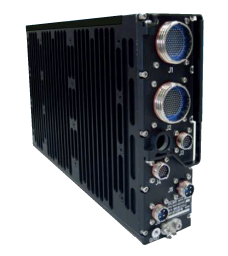 Characteristics
Technical Specifications
Enables IP-based Network Centric Communications incorporating Ethernet Switching, IP routing, and IP Encryption
Modular HW architecture based on units with Processing, I/O, and IP routing/switching functions
Partitioned SW architecture based on ARINC653 RTOS to support independent CNI applications
IP Network Encryption Module, adaptable to specific National, NATO, and Coalition security mission requirements
Video/Audio digitization and compression for realtime
transmission
Modular I/O for customization on different application scenarios
Redundant configurations for high availability applications
DO178B-DO254 HW/SW development for safe applications' support
Common Criteria and Tempest certification
UAS Communication Management.
Hardware Environment
VPX (VITA46) 3 U form factor SRUs
VPX (VITA46) 3 U form factor SRUs
Up to 512 GB of HDD Capacity
Software Environment
Operating Systems: Wind River VxWorks 653 R2.4 Linux O.S. DEBIAN 6.0
Routing/Switching Standards
RFC 793 / RFC768: TCP/UDP Support
RFC 791 / RFC 2460: IPv4/IPv6 Support
RFC 826 / RFC1027: ARP / Proxy ARP
RFC 1350: TFTP
RFC 2328: OSPFv2 Routing
RFC 2131: DHCP Server
IEEE 802.1Q: VLAN Support
DSCP: DiffServ QoS model
RFC 4861: Network Discovery
NATO Standards
STANAG 5516: Link 16
STANAG 5511: Link 11A
MIL-STD-2045-47001: VMF
STANAG 5519: VMF
STANAG 5616: Data Forwarding
MIL-STD 3011C: JREAP A, C
MIL-STD-1553 Serial Data Bus
MIL-STD-188-114A Digital Interface Circuits
MIL-STD 188-220D Digital Message Transfer Device Subsystems
External Interfaces
10/100/1000 IEEE802.3 (Fast/Giga Ethernet)
ARINC 429
RS485/422
ATDS/Link11
Avionic CAN BUS
Discretes in/out, Audio in/out, Video in/out
MIL-STD 1553
MIL-STD188-114A
Environmental Characteristics
Temperature Operating: -40°C to +70°C
Storage: -55°C to +85°C
Altitude: Up to 50000 feet
Qualification
RTCA/DO-160F: Environmental conditions
MIL-STD-461E: EMI/EMC
MIL-STD-1472: Human Engineering
Mechanical Characteristics
Dimensions: ¼ ATR (57 x 194 x 324 mm)
Weight: <4 Kg
Cooling: No cooling required
Other Characteristics
Reliability: MTBF 2500 hours, MIL-HDBK-217, ARW Environment, 50°C
Maintainability: MTTR < 10 min (1st level) MTTR < 60 min (2nd level)
Consumption: < 40 W
Input power: 28 VDC i.a.w. MIL-STD 704 F