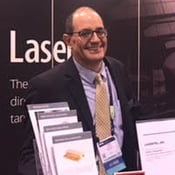 We recently sat down with Brian Caliva, Product Design & Development Manager, whose role embodies much of the laser solutions team's core goal: meet exceptional quality requirements while getting products out the door that are specific to our customers' unique needs. Talented team members like Brian, working efficiently between engineering and production teams to meet desired customer specifications, help the team accomplish this goal.
How did your path bring you to the laser solutions team at Leonardo Electronics US?
I was working on my Master's in Physics from the University of Minnesota and ended up working for Mark and Prabhu after grad school, before they even joined the team. Once they joined Tucson, I also came on board as a test engineer. From there my role has morphed a bit; I became more involved with troubleshooting device performance and assembly issues, which eventually lead to project management and design.
I knew that I liked working with lasers, but I'm here because of the relationships I've built with talented people like Mark and Prabhu.
What are the key areas you explore with customers today?
Defining projects: When customers request a new product or a modification to an existing product, I work with the production and engineering staff to define the product for manufacture. This involves aligning the customer's requirements with our capabilities.
Customer support: I work with customers on solving technical issues and help them understand our capabilities to best define a product for their needs.
Development: The main part of my work is with both engineering and production to get products out the door. Engineering and I define the materials being used, and production and I work together to build it. I then review the product performance and verify that it meets customer specifications. We then can ship the product to the customer for use.
Quality: The Tucson, laser solutions facility is an AS9100 company, and I am part of the quality team. We make sure we stay within the requirements of our quality system as well as the standard. We work to streamline the processes to meet these quality requirements, while also trying to be versatile to meet customer demands.
As far as getting products out the door, is there anything you'd like customers to know that would help reduce lead time?
There is a lot we can do on the front end to reduce lead time for customers. Oftentimes when working with a customer that has a new product that is time sensitive, we will work closely with the customer to minimize program risk and make sure we fully understand the specifications.
Also, if a customer would like to investigate a new idea, I can work with what we have in our inventory to find a suitable proof of concept unit. I give them something they can work with for their demo, and then they can come back when they are ready to place a specific order for their end product.
What are you working on presently?
I'm currently working with a customer on designing an illuminator for an airborne turret. We just delivered the last of the prototype illuminators. The customer will be able to illuminate a large scene for nighttime operations for defense surveillance. We developed the P2 diode package specifically for this project, which required specifications different from our P1 diode package.
Do you only work within defense applications?
I do work on a lot of defense-related projects involving our QCW and CW diode arrays. As we've expanded into the medical market, specifically laser hair removal, I was involved on the development project for the new T6Air™. This lightweight laser diode has multiple wavelengths in a single diode to treat multiple skin colors receiving laser hair removal. The laser solutions team has been busy manufacturing diode solutions that allow medical device manufacturers to replace their traditional laser systems with one single diode package that can hit multiple wavelengths.
Is there a project you're most proud of?
Within the last year and half, we delivered additional work for the F-35 EOTS system. Working alongside Leonardo on this project, we developed a new pumping system. There were some upgrades involved on Leonardo's end, such as reducing the weight and volume while keeping most of the output parameters unchanged. They also took out some of the internal parts that have become obsolete technologies over time, such as temperature control. It was a neat project on which to collaborate with our parent company!
Learn more about our multi-wavelength array capabilities in our white paper, Lightweighting Medical Systems through Improved Laser Diode Design: