In collaboration with aerospace and defense groups Bombardier and Marshall, Leonardo's Miysis Directed Infrared Countermeasures system (DIRCM) ensures the safety of VIP passengers with its laser-based protection equipment. The strategic alliance between these industry leaders provides an innovative engineering solution for self-protection. This advanced solution is being chosen by governments in the UK, Canada, and other NATO countries.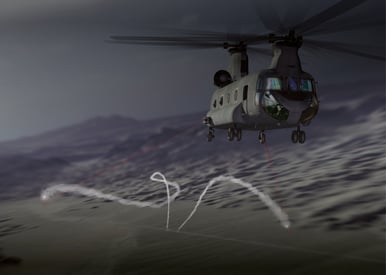 For the last 40 years, Miysis DIRCM has been the dependable solution for mission-critical security requirements — today's solution provides continual protection from IR-guided missiles including Man Portable Air Defense Systems (MANPADS). The system's market-leading size, weight and power make the Miysis DIRCM the primary choice for effective air defense. With complete spherical protection and 100% effectiveness in live fire trials, the Miysis DIRCM will provide assured comprehensive security for valued passengers.
More key capabilities include:
Single solution for helicopters and fixed-wing aircraft

Dependable and proven protection

Detects and defeats multiple/advanced threats

Flexible aircraft installation options

Exceedingly high laser energy-on-target

Low cost and support requirements
Miysis DIRCM is a critical solution when safety is top priority. Learn more about how this system provides integrated protection.